Never Split the Difference: Negotiating As If Your Life Depended On It
by Christopher Voss 2016. 05. 17
A former international hostage negotiator for the FBI offers a new, field-tested approach to high-stakes negotiations–whether in the boardroom or at home.
After a stint policing the rough streets of Kansas City, Missouri, Chris Voss joined the FBI, where his career as a hostage negotiator brought him face-to-face with a range of criminals, including bank robbers and terrorists. Reaching the pinnacle of his profession, he became the FBI's lead international kidnapping negotiator. Never Split the Difference takes you inside the world of high-stakes negotiations and into Voss's head, revealing the skills that helped him and his colleagues succeed where it mattered most: saving lives. In this practical guide, he shares the nine effective principles–counterintuitive tactics and strategies–you too can use to become more persuasive in both your professional and personal life.
Life is a series of negotiations you should be prepared for: buying a car, negotiating a salary, buying a home, renegotiating rent, deliberating with your partner. Taking emotional intelligence and intuition to the next level, Never Split the Difference gives you the competitive edge in any discussion.
Getting to Yes: Negotiating Agreement Without Giving in
by Roger Fisher, Bruce Patton, William L. Ury 2011. 05. 03
The key text on problem-solving negotiation-updated and revised
Getting to Yes has helped millions of people learn a better way to negotiate. One of the primary business texts of the modern era, it is based on the work of the Harvard Negotiation Project, a group that deals with all levels of negotiation and conflict resolution.
Getting to Yes offers a proven, step-by-step strategy for coming to mutually acceptable agreements in every sort of conflict. Thoroughly updated and revised, it offers readers a straight- forward, universally applicable method for negotiating personal and professional disputes without getting angry-or getting taken.
"Since it was first published in 1981 Getting to Yes has become a central book in the Business Canon: the key text on the psychology of negotiation. Its message of "principled negotiations"–finding acceptable compromise by determining which needs are fixed and which are flexible for negotiating parties–has influenced generations of businesspeople, lawyers, educators and anyone who has sought to achieve a win-win situation in arriving at an agreement. It has sold over 8 million copies worldwide in 30 languages, and since it was first published by Penguin in 1991 (a reissue of the original addition with Bruce Patton as additional coauthor) has sold over 2.5 million copies–which places it as the #10 bestselling title overall in Penguin Books, and #3 bestselling nonfiction title overall. We have recently relicensed the rights to Getting to Yes, and will be doing a new revised edition–a 30th anniversary of the original publication and 20th of the Penguin edition. The authors will be bringing the book up to date with new material and a assessment of the legacy and achievement of Getting to Yes after three decades"–
Offers a plan for negotiating a mutually satisfying aggreement without upsetting the other parties involved.
The key text on problem-solving negotiation-updated and revised
Getting to Yes has helped millions of people learn a better way to negotiate. One of the primary business texts of the modern era, it is based on the work of the Harvard Negotiation Project, a group that deals with all levels of negotiation and conflict resolution.
Getting to Yes offers a proven, step-by-step strategy for coming to mutually acceptable agreements in every sort of conflict. Thoroughly updated and revised, it offers readers a straight- forward, universally applicable method for negotiating personal and professional disputes without getting angry-or getting taken.
Negotiation Genius: How to Overcome Obstacles and Achieve Brilliant Results at the Bargaining Table and Beyond
by Deepak Malhotra 2008. 08. 26
From two leaders in executive education at Harvard Business School, here are the mental habits and proven strategies you need to achieve outstanding results in any negotiation.
Whether you've "seen it all" or are just starting out, Negotiation Genius will dramatically improve your negotiating skills and confidence. Drawing on decades of behavioral research plus the experience of thousands of business clients, the authors take the mystery out of preparing for and executing negotiations—whether they involve multimillion-dollar deals or improving your next salary offer.
What sets negotiation geniuses apart? They are the men and women who know how to:
• Identify negotiation opportunities where others see no room for discussion
• Discover the truth even when the other side wants to conceal it
• Negotiate successfully from a position of weakness
• Defuse threats, ultimatums, lies, and other hardball tactics
• Overcome resistance and "sell" proposals using proven influence tactics
• Negotiate ethically and create trusting relationships—along with great deals
• Recognize when the best move is to walk away
• And much, much more
This book gets "down and dirty." It gives you detailed strategies—including talking points—that work in the real world even when the other side is hostile, unethical, or more powerful. When you finish it, you will already have an action plan for your next negotiation. You will know what to do and why. You will also begin building your own reputation as a negotiation genius.
The Negotiation Book: Your Definitive Guide to Successful Negotiating
by Steve Gates 2015. 12. 02
NEGOTIATION IS ONE OF THE MOST IMPORTANT SKILLS IN BUSINESS. FACT.
We all have to negotiate at some point; whether in the office or at home. Successful negotiating can lead to great results that can in turn have a profound effect on our lives – financially, personally and professionally. No other skill will give you a better chance of optimizing opportunities in life.
GAIN THE COMPETITIVE ADVANTAGE.
Steve Gates, founder and CEO of The Gap Partnership, the world's leading negotiation consultants, helps you to understand the dynamics and strategies of commercial negotiation, and tap into the psychology, tactics and behaviors that will give you the advantage in any negotiation situation.
You will learn how to:
Take control of your negotiations through assertiveness and self-assurance
Adapt your approach and behavior to suit different types of negotiation
Realize more value from every agreement you make
Create more opportunities through planning and preparing for your negotiations
Understand the short term tactics that others may try to use to manipulate you
With exclusive free access to an online negotiation profiler, this book will help you to develop the self-awareness you need to successfully build negotiation strategies and facilitate negotiations to get the results you want.
Bargaining for Advantage: Negotiation Strategies for Reasonable People
by G. Richard Shell 2006. 05. 02
As director of the world-renowned Wharton Executive Negotiation Workshop, Professor G. Richard Shell has taught thousands of business leaders, lawyers, administrators, and other professionals how to survive and thrive in the sometimes rough-and-tumble world of negotiation. In the third edition of this internationally acclaimed book, he brings to life his systematic, step-by-step approach, built around negotiating effectively as who you are, not who you think you need to be. Shell combines lively stories about world-class negotiators from J. P. Morgan to Mahatma Gandhi with proven bargaining advice based on the latest research into negotiation and neuroscience. This updated edition includes:
This updated edition includes:
· An easy-to-take "Negotiation I.Q." test that reveals your unique strengths as a negotiator
· A brand new chapter on reliable moves to use when you are short on bargaining power or stuck at an impasse
· Insights on how to succeed when you negotiate online
· Research on how gender and cultural differences can derail negotiations, and advice for putting relationships back on track
Getting Past No: Negotiating in Difficult Situations
by William Ury 1993. 01. 01
A guide to successful negotiation shows readers how to stay cool under pressure, stand up for themselves without provoking opposition, deal with underhanded tactics, find mutually agreeable options, and more, in a new edition of the classic guide, updated with an all-new introduction. Reissue.
We all want to get to yes, but what happens when the other person keeps saying no?
How can you negotiate successfully with a stubborn boss, an irate customer, or a deceitful coworker?
In Getting Past No, William Ury of Harvard Law School's Program on Negotiation offers a proven breakthrough strategy for turning adversaries into negotiating partners. You'll learn how to:
Stay in control under pressure
Defuse anger and hostility
Find out what the other side really wants
Counter dirty tricks
Use power to bring the other side back to the table
Reach agreements that satisfies both sides' needs
Getting Past No is the state-of-the-art book on negotiation for the twenty-first century. It will help you deal with tough times, tough people, and tough negotiations. You don&;t have to get mad or get even. Instead, you can get what you want!
Offers advice on how to negotiate with difficult people, showing readers how to stay cool under pressure, disarm an adversary, and stand up for themselves without provoking opposition
Difficult Conversations: How to Discuss What Matters Most
by Douglas Stone, Sheila Heen, Bruce Patton, Fishe 2010. 11. 02
The 10th-anniversary edition of the New York Times business bestseller-now updated with "Answers to Ten Questions People Ask" We attempt or avoid difficult conversations every day-whether dealing with an underperforming employee, disagreeing with a spouse, or negotiating with a client. From the Harvard Negotiation Project, the organization that brought you Getting to Yes, Difficult Conversations provides a step-by-step approach to having those tough conversations with less stress and more success. you'll learn how to: – Decipher the underlying structure of every difficult conversation – Start a conversation without defensiveness – Listen for the meaning of what is not said – Stay balanced in the face of attacks and accusations – Move from emotion to productive problem solving.
Crucial Conversations Tools for Talking When Stakes Are High
by Kerry Patterson, Joseph Grenny, Ron McMillan 2011. 09. 09
The New York Times and Washington Post bestseller that changed the way millions communicate
[Crucial Conversations] draws our attention to those defining moments that literally shape our lives, our relationships, and our world. . . . This book deserves to take its place as one of the key thought leadership contributions of our time.
from the Foreword by Stephen R. Covey, author of The 7 Habits of Highly Effective People
The quality of your life comes out of the quality of your dialogues and conversations. Here's how to instantly uplift your crucial conversations.
Mark Victor Hansen, co-creator of the #1 New York Times bestselling series Chicken Soup for the Soul®
The first edition of Crucial Conversations exploded onto the scene and revolutionized the way millions of people communicate when stakes are high. This new edition gives you the tools to:
Prepare for high-stakes situations
Transform anger and hurt feelings into powerful dialogue
Make it safe to talk about almost anything
Be persuasive, not abrasive
Negotiating the Impossible: How to Break Deadlocks and Resolve Ugly Conflicts (Without Money or Muscle)
by Deepak Malhotra 2018. 06. 19
Negotiating the Impossible guides readers through deadlock with practical advice, and shares stories of successful negotiation to make the hopeless feel hopeful!
Some negotiations are easy. Others are more difficult. And then there are situations that seem completely hopeless. Conflict is escalating, people are getting aggressive, and no one is willing to back down. And to top it off, you have little power or other resources to work with. Harvard professor and negotiation adviser Deepak Malhotra shows how to defuse even the most potentially explosive situations and to find success when things seem impossible. Malhotra identifies three broad approaches for breaking deadlocks and resolving conflicts, and draws out scores of actionable lessons using behind-the-scenes stories of fascinating real-life negotiations, including drafting of the US Constitution, resolving the Cuban Missile Crisis, ending bitter disputes in the NFL and NHL, and beating the odds in complex business situations. But he also shows how these same principles and tactics can be applied in everyday life, whether you are making corporate deals, negotiating job offers, resolving business disputes, tackling obstacles in personal relationships, or even negotiating with children. As Malhotra reminds us, regardless of the context or which issues are on the table, negotiation is always, fundamentally, about human interaction. No matter how high the stakes or how protracted the dispute, the object of negotiation is to engage with other human beings in a way that leads to better understandings and agreements. The principles and strategies in this book will help you do this more effectively in every situation.
Getting More: How You Can Negotiate to Succeed in Work and Life
by Stuart Diamond 2012. 08. 14
The No.1 US bestseller from the worlds best negotiator
You're always negotiating. Whether making a business deal, talking to friends or booking a holiday, negotiation is going on. And most of us are terrible at it. Stuart Diamond is often described as 'the world's leading negotiator'. He runs the most popular course at Wharton business school, he advises Google and the UN on how to make deals, and his negotiating methods have settled thousands of disputes including the Hollywood writers' strike. In this bestselling book, Diamond reveals the secrets behind getting more in any negotiation – whatever 'more' means to you. Getting More is accessible, jargon-free, innovative…and it works.
Beyond Reason: Using Emotions as You Negotiate
by Roger Fisher, Daniel shapiro 2006. 10. 01
Co-authored by the writer of Getting to Yes and a Harvard psychologist, a guide to understanding how emotions can be used as a tool during a negotiating process explains how readers can interact more productively by getting in touch with feelings and by setting a positive tone.
"Written in the same remarkable vein as Getting to Yes, this book is a masterpiece." -Dr. Steven R. Covey, author of The 7 Habits of Highly Effective People – Winner of the Outstanding Book Award for Excellence in Conflict Resolution from the International Institute for Conflict Prevention and Resolution – In Getting to Yes, renowned educator and negotiator Roger Fisher presented a universally applicable method for effectively negotiating personal and professional disputes. Building on his work as director of the Harvard Negotiation Project, Fisher now teams with Harvard psychologist Daniel Shapiro, an expert on the emotional dimension of negotiation and author of Negotiating the Nonnegotiable: How to Resolve Your Most Emotionally Charged Conflicts. In Beyond Reason, Fisher and Shapiro show readers how to use emotions to turn a disagreement-big or small, professional or personal-into an opportunity for mutual gain.
3-D Negotiation: Powerful Tools to Change the Game in Your Most Important Deals
by Lax, David A. ; Sebenius, James K. 2006. 10. 01
Stuck in a "win-win versus win-lose" debate, most negotiation books focus on face-to-face tactics. Yet table tactics are only the "first dimension" of Lax and Sebenius's path breaking approach, developed from their decades of doing deals and analyzing great dealmakers. deal makersheir "second dimension"–deal design–systematically unlock economic and non-economic value by creatively structuring agreements. But what sets the 3-D approach apart is its "third dimension": setup. Before showing up at a bargaining session, 3-D Negotiators ensure that the right parties have been approached, in the right sequence, to address the right interests, under the right expectations, and facing the right consequences of walking away if there is no deal. This new arsenal of moves away from the table often exerts the greatest impact on the negotiated outcome. Packed with practical steps and cases, 3-D Negotiation demonstrates how superior setup moves plus insightful deal designs can enable you to reach remarkable agreements at the table, unattainable by standard tactics.
Getting to Yes with Yourself: How to Get What You Truly Want
by William Ury 2016. 10. 04
William Ury, coauthor of the international bestseller Getting to Yes, returns with another groundbreaking book, this time asking: how can we expect to get to yes with others if we haven't first gotten to yes with ourselves?
Renowned negotiation expert William Ury has taught tens of thousands of people from all walks of life–managers, lawyers, factory workers, coal miners, schoolteachers, diplomats, and government officials–how to become better negotiators. Over the years, Ury has discovered that the greatest obstacle to successful agreements and satisfying relationships is not the other side, as difficult as they can be. The biggest obstacle is actually our own selves–our natural tendency to react in ways that do not serve our true interests.
But this obstacle can also become our biggest opportunity, Ury argues. If we learn to understand and influence ourselves first, we lay the groundwork for understanding and influencing others. In this prequel to Getting to Yes, Ury offers a seven-step method to help you reach agreement with yourself first, dramatically improving your ability to negotiate with others.
Pre-Suasion: A Revolutionary Way to Influence and Persuade
by Robert B. Cialdini 2017. 04. 20
A revelatory exploration of the science of persuasion, from the author of the international bestseller, Influence.
When it comes to persuasion, success can begin before you say a word. 'An instant classic.' Forbes 'Utterly fascinating.' Adam Grant, author of Originals and Give and Take 'Shockingly insightful.' Chip Heath, co-author of Switch and Made to Stick NEW YORK TIMES BESTSELLER In his global bestseller Influence, Professor Robert Cialdini transformed the way we think about the craft of persuasion. Now he offers revelatory new insights into the art of winning people over: it isn't just what we say or how we say it that counts, but also what goes on in the moments before we speak. This is the world of 'pre-suasion', where subtle turns of phrase, seemingly insignificant visual cues, and apparently unimportant details of location can prime people to say 'yes' even before they are asked. And as Cialdini reveals, it's a world you can master. If you understand the tools of pre-suasion, you will better placed to win a debate, get support for an idea or cause, promote a campaign – even persuade yourself to do something you find difficult. Drawing on the latest research, and packed with fascinating case studies, Pre-Suasion is a masterclass in enhancing your powers of influence. 'Mind-blowing.' Management Today 'Accessible and intellectually rigorous.' Books of the Year, The Times 'Fascinating, fluent and original.' Tim Harford, author of The Undercover Economist Strikes Back
Negotiating at Work: Turn Small Wins Into Big Gains
by Deborah M. Kolb, Robert W. Kolb, Jessica L. Porter 2015. 01. 27
Understand the context of negotiations to achieve better results
Negotiation has always been at the heart of solving problems at work. Yet today, when people in organizations are asked to do more with less, be responsive 24/7, and manage in rapidly changing environments, negotiation is more essential than ever. What has been missed in much of the literature of the past 30 years is that negotiations in organizations always take place within a context—of organizational culture, of prior negotiations, of power relationships—that dictates which issues are negotiable and by whom. When we negotiate for new opportunities or increased flexibility, we never do it in a vacuum. We challenge the status quo and we build out the path for others to negotiate those issues after us. In this way, negotiating for ourselves at work can create small wins that can grow into something bigger, for ourselves and our organizations. Seen in this way, negotiation becomes a tool for addressing ineffective practices and outdated assumptions, and for creating change.
Negotiating at Work offers practical advice for managing your own workplace negotiations: how to get opportunities, promotions, flexibility, buy-in, support, and credit for your work. It does so within the context of organizational dynamics, recognizing that to negotiate with someone who has more power adds a level of complexity. The is true when we negotiate with our superiors, and also true for individuals currently under represented in senior leadership roles, whose managers may not recognize certain issues as barriers or obstacles.
Negotiating at Work is rooted in real-life cases of professionals from a wide range of industries and organizations, both national and international.
Strategies to get the other person to the table and engage in creative problem solving, even when they are reluctant to do so
Tips on how to recognize opportunities to negotiate, bolster your confidence prior to the negotiation, turn 'asks' into a negotiation, and advance negotiations that get "stuck"
A rich examination of research on negotiation, conflict management, and gender
By using these strategies, you can negotiate successfully for your job and your career; in a larger field, you can also alter organizational practices and policies that impact others.
Start with No: The Negotiating Tools That the Pros Don't Want You to Know
by Jim Camp 2002. 07. 09
An introduction to business negotiation presents a new decision-based strategy designed to promote effective and successful results, illuminating his fundamental principles with real-world examples from companies such as Texas Instruments and Federal Express on how to close a deal. 25,000 first printing.
Start with No offers a contrarian, counterintuitive system for negotiating any kind of deal in any kind of situation—the purchase of a new house, a multimillion-dollar business deal, or where to take the kids for dinner.

Think a win-win solution is the best way to make the deal? Think again.
For years now, win-win has been the paradigm for business negotiation. But today, win-win is just the seductive mantra used by the toughest negotiators to get the other side to compromise unnecessarily, early, and often. Win-win negotiations play to your emotions and take advantage of your instinct and desire to make the deal.Start with No introduces a system of decision-based negotiation that teaches you how to understand and control these emotions. It teaches you how to ignore the siren call of the final result, which you can't really control, and how to focus instead on the activities and behavior that you can and must control in order to successfully negotiate with the pros.
The best negotiators:
aren't interested in "yes"—they prefer "no"

never, ever rush to close, but always let the other side feel comfortable and secure
are never needy; they take advantage of the other party's neediness
create a "blank slate" to ensure they ask questions and listen to the answers, to make sure they have no assumptions and expectations
always have a mission and purpose that guides their decisions
don't send so much as an e-mail without an agenda for what they want to accomplish
know the four "budgets" for themselves and for the other side: time, energy, money, and emotion
never waste time with people who don't really make the decision
Bargaining with the Devil: When to Negotiate, When to Fight
by Robert Mnookin 2011. 04. 12
One of the country's most eminent practitioners of the art and science of negotiation offers practical advice for the most challenging conflicts—when you are facing an adversary you don't trust, who may harm you, or who you may even feel is evil. This lively, informative, emotionally compelling book identifies the tools one needs to make wise decisions about life's most challenging conflicts.
You Can Negotiate Anything
by Herb Cohen 1982. 12. 01
Every day, you negotiate for something: prestige, money, security, love. This straight-talking guide will show you how to get what you want by dealing successfully with your mate, your boss, MasterCard, your children, your best friends and even yourself. As Herb Cohen counsels, "Power is based upon perception– if you think you've got it then you've got it. Be patient, be personal, be informed– and you can bargain successfully for anything."Based on his book that spent over nine months on the New York Times bestseller list, the author presents specific guidelines, personal anecdotes and practical advice drawn from his three decades of successful negotiating experience. Here is a wealth of information and the motivation that you need to succeed.
Negotiating the Nonnegotiable: How to Resolve Your Most Emotionally Charged Conflicts
by Daniel Shapiro 2017. 03. 07
"A masterpiece."William Ury, coauthor of Getting to Yes In this landmark book, world-renowned Harvard negotiation expert Daniel Shapiro introduces a groundbreaking, step-by-step method to resolve your most difficult conflicts. ?Find out how to successfully resolve your most emotionally charged conflicts. This indispensable guide reveals the five hidden emotional forces that strain your relations and block agreement: vertigo, repetition compulsion, taboos, assault on the sacred, and identity politics. The moment you feel attacked, these forces transform your conflict into an adversarial battle, turning even a straightforward disagreement into an emotional uproar. ?In Negotiating the Nonnegotiable, you will learn a powerful, proven approach to overcome these forces, reconcile your relations, and reach agreement in even your most challenging personal and professional disputes.From the Hardcover edition.
Trump: The Art of the Deal
by Tony Schwartz, Donald J. Trump 2017. 01. 31
President-elect Donald J. Trump lays out his professional and personal worldview in this classic work-a firsthand account of the rise of America's foremost deal-maker.
"I like thinking big. I always have. To me it's very simple: If you're going to be thinking anyway, you might as well think big."-Donald J. Trump
Here is Trump in action-how he runs his organization and how he runs his life-as he meets the people he needs to meet, chats with family and friends, clashes with enemies, and challenges conventional thinking. But even a maverick plays by rules, and Trump has formulated time-tested guidelines for success. He isolates the common elements in his greatest accomplishments; he shatters myths; he names names, spells out the zeros, and fully reveals the deal-maker's art. And throughout, Trump talks-really talks-about how he does it. Trump: The Art of the Deal is an unguarded look at the mind of a brilliant entrepreneur-the ultimate read for anyone interested in the man behind the spotlight.
The Art of Negotiation: How to Improvise Agreement in a Chaotic World
by Michael Wheeler 2013. 10. 08
Simon Schuster A member of the world-renowned Program on Negotiation at Harvard Law School introduces the powerful next-generation approach to negotiation.The Art of Negotiation shows how master negotiators thrive in the face of chaos and uncertainty. They don't trap themselves with rigid plans. Instead they understand negotiation as a process of exploration that demands ongoing learning. adapting. and influencing. Using examples from diplomats such as George Mitchell. dealmaker Bruce Wasserstein. and Hollywood producer Jerry Weintraub. Michael Wheeler shows how agility and improvisation enable the best negotiators to reach agreement when others would be stalemated.
Thanks for the Feedback: The Science and Art of Receiving Feedback Well
by Douglas Stone 2015. 03. 31
The coauthors of the New York Times-bestselling Difficult Conversations take on the toughest topic of all: how we see ourselves Douglas Stone and Sheila Heen have spent the past fifteen years working with corporations, nonprofits, governments, and families to determine what helps us learn and what gets in our way. In Thanks for the Feedback, they explain why receiving feedback is so crucial yet so challenging, offering a simple framework and powerful tools to help us take on life's blizzard of offhand comments, annual evaluations, and unsolicited input with curiosity and grace. They blend the latest insights from neuroscience and psychology with practical, hard-headed advice. Thanks for the Feedback is destined to become a classic in the fields of leadership, organizational behavior, and education.
Women Don't Ask: Negotiation and the Gender Divide
by Linda Babcock, Sara Laschever 2003. 09. 22
Stating that woman are less likely to express preferences or ask for things, an examination of the social forces constraining woman looks at how women can evaluate their opportunities and become comfortable with making requests.
When Linda Babcock asked why so many male graduate students were teaching their own courses and most female students were assigned as assistants, her dean said: "More men ask. The women just don't ask." It turns out that whether they want higher salaries or more help at home, women often find it hard to ask. Sometimes they don't know that change is possible–they don't know that they can ask. Sometimes they fear that asking may damage a relationship. And sometimes they don't ask because they've learned that society can react badly to women asserting their own needs and desires.
By looking at the barriers holding women back and the social forces constraining them, Women Don't Ask shows women how to reframe their interactions and more accurately evaluate their opportunities. It teaches them how to ask for what they want in ways that feel comfortable and possible, taking into account the impact of asking on their relationships. And it teaches all of us how to recognize the ways in which our institutions, child-rearing practices, and unspoken assumptions perpetuate inequalities–inequalities that are not only fundamentally unfair but also inefficient and economically unsound.
With women's progress toward full economic and social equality stalled, women's lives becoming increasingly complex, and the structures of businesses changing, the ability to negotiate is no longer a luxury but a necessity. Drawing on research in psychology, sociology, economics, and organizational behavior as well as dozens of interviews with men and women from all walks of life, Women Don't Ask is the first book to identify the dramatic difference between men and women in their propensity to negotiate for what they want. It tells women how to ask, and why they should.
Good for you, Great for Me: Finding the Trading Zone and Winning at Win-Win Negotiation
by Lawrence Susskind 2014. 06. 03
You've read the classic on win-win negotiating, "Getting to Yes" but so have they, the folks you are now negotiating with. How can you get a leg up "and win"
"Win-win" negotiation is an appealing idea on an intellectual level: Find the best way to convince the other side to accept a mutually beneficial outcome, and then everyone gets their fair share. The reality, though, is that people want more than their fair share; they want to win. Tell your boss that you've concocted a deal that gets your company a piece of the pie, and the reaction is likely to be: "Maybe we need to find someone harder-nosed than you who knows how to win. We want the whole pie, not just a slice." However, to return to an earlier era before "win-win" negotiation was in fashion and seek simply to dominate or bully opponents into submission would be a step in the wrong direction" and a public relations disaster.
By showing how to win at win-win negotiating, Lawrence Susskind provides the operational advice you need to satisfy the interests of your back table the people to whom you report. He also shows you how to deal with irrational people, whose vocabulary seems limited to "no," or with the proverbial 900-pound gorilla. He explains how to find trades that create much more value than either you or your opponent thought possible. His brilliant concept of "the trading zone" "the space where you can create deals that are "good for them but great for you, while still maintaining trust and keeping relationships intact" is a fresh way to re-think your approach to negotiating. The outcome is often the best of both possible worlds: You claim a disproportionate share of the value you've created while your opponents still look good to the people to whom they report.
Whether the venue is business, a family dispute, international relations, or a tradeoff that has to be made between the environment and jobs, Susskind provides a breakthrough in how to both think about, and engage in, productive negotiations.
Secrets of Power Negotiating : Inside Secrets from a Master Negotiator
by Roger Dawson 2010. 10. 20
Roger Dawson's Secrets of Power Negotiating has changed the way American business thinks about negotiating. Thinking "win-win"–looking for that magical third solution in which everyone wins but nobody loses–can be a naive and ultimately unsuccessful approach in today's tough business environment. Power Negotiating teaches that the way you negotiate can get you everything you want and still convince the other side that they won also.This third edition has been completely revised and updated to reflect the changing dynamics of business today. New and expanded sections include:
Twenty sure-fire negotiating gambits.
How to negotiate over the telephone, by e-mail, and via instant messaging.
How to read body language.
Listening to hidden meanings in conversation.
Dealing with people from other cultures.
How to become an expert mediator.
Secrets of Power Negotiating covers every aspect of the negotiating process with practical, proven advice, from beginning steps to critical final moves: how to recognize unethical tactics, key principles of the Power Negotiating strategy, why money is not as important as everyone thinks, negotiating pressure points, understanding the other party and gaining the upper hand, and analyses of different negotiating styles.
Beyond Winning: Negotiating to Create Value in Deals and Disputes
by Robert H. Mnookin, Scott R. Peppet, Andrew S. Tulumello 2004. 04. 15
Conflict is inevitable, in both deals and disputes. Yet when clients call in the lawyers to haggle over who gets how much of the pie, traditional hard-bargaining tactics can lead to ruin. Too often, deals blow up, cases don't settle, relationships fall apart, justice is delayed. Beyond Winning charts a way out of our current crisis of confidence in the legal system. It offers a fresh look at negotiation, aimed at helping lawyers turn disputes into deals, and deals into better deals, through practical, tough-minded problem-solving techniques.
In this step-by-step guide to conflict resolution, the authors describe the many obstacles that can derail a legal negotiation, both behind the bargaining table with one's own client and across the table with the other side. They offer clear, candid advice about ways lawyers can search for beneficial trades, enlarge the scope of interests, improve communication, minimize transaction costs, and leave both sides better off than before. But lawyers cannot do the job alone. People who hire lawyers must help change the game from conflict to collaboration. The entrepreneur structuring a joint venture, the plaintiff embroiled in a civil suit, the CEO negotiating an employment contract, the real estate developer concerned with environmental hazards, the parent considering a custody battle–clients who understand the pressures and incentives a lawyer faces can work more effectively within the legal system to promote their own best interests. Attorneys exhausted by the trench warfare of cases that drag on for years will find here a positive, proven approach to revitalizing their profession.
Dealmaking: The New Strategy of Negotiauctions
by Guhan Subramanian 2020. 08. 04
Leading dealmaking scholar Guhan Subramanian specializes in understanding how deals work. As a Harvard Business School professor, he has spent years examining and teaching corporate dealmaking through two classic lenses: negotiation theory and auction theory. As he looked at real-world situations, however, he discovered that complex deals usually combine both approaches: negotiators are "fighting on two fronts"?across the table and on the same side?with known, unknown, or potential competitors.
"Updated and enhanced in this new second edition, Dealmaking brings together negotiation and auction strategies to provide the jargon-free, empirically sound advice professionals need to close the deal. Harvard Program on Negotiation chair Guhan Subramanian provides a lively tour of both negotiation and auction theory, then takes an in-depth look at a hybrid theory, outlining three specific strategies readers can use in complex dealmaking situations. Along the way, he examines case studies as diverse as buying a house, haggling over the rights to a TV show, and participating in the auction of a multimillion-dollar company. Informed by meticulous research, field experience, and classroom-tested strategies, Dealmaking offers essential insights for anyone involved in buying or selling everything from cars to corporations"
Kiss, Bow, or Shake Hands: Asia: How to Do Business in 12 Asian Countries
by Terri Morrison 2006. 11. 15
Morrison, a trainer for global business travelers, offers advice for those doing business in 13 countries. Each country chapter offers background information from a cultural anthropologist's perspective, and gives tips on business practices, natural and human hazards, and protocol, covering areas such as greetings, punctuality, gifts, attire, and negotiating. An introduction outlines the concepts of cognitive styles and value systems which are used in the cultural orientation sections of the country chapters. Appendices provide references on fashion, holidays, equivalents, and international electrical adaptors, as well as contacts and resources.
The power of a Positive No: How to Say No and Still Get to Yea
by William Ury 2007. 12. 26
No is perhaps the most important and certainly the most powerful word in the language. Every day we find ourselves in situations where we need to say No&;to people at work, at home, and in our communities&;because No is the word we must use to protect ourselves and to stand up for everything and everyone that matters to us.
But as we all know, the wrong No can also destroy what we most value by alienating and angering people. That&;s why saying No the right way is crucial. The secret to saying No without destroying relationships lies in the art of the Positive No, a proven technique that anyone can learn.
This indispensable book gives you a simple three-step method for saying a Positive No. It will show you how to assert and defend your key interests; how to make your No firm and strong; how to resist the other side&;s aggression and manipulation; and how to do all this while still getting to Yes. In the end, the Positive No will help you get not just to any Yes but to the right Yes, the one that truly serves your interests.
Based on William Ury&;s celebrated Harvard University course for managers and professionals, The Power of a Positive No offers concrete advice and practical examples for saying No in virtually any situation. Whether you need to say No to your customer or your coworker, your employee or your CEO, your child or your spouse, you will find in this book the secret to saying No clearly, respectfully, and effectively.
In today&;s world of high stress and limitless choices, the pressure to give in and say Yes grows greater every day, producing overload and overwork, expanding e-mail and eroding ethics. Never has No been more needed. A Positive No has the power to profoundly transform our lives by enabling us to say Yes to what counts&;our own needs, values, and priorities.
Understood this way, No is the new Yes. And the Positive No may be the most valuable life skill you&;ll ever learn!
The co-author of the best-selling Getting to Yes explains how to use the word "No" effectively and in a positive way to defend one's personal interests in personal and professional situations while preserving one's relationships with others, introducing a series of essential life skills designed to help readers assert themselves without destructive repercussions. Reprint. 40,000 first printing.
Way of the Wolf: Straight Line Selling: Master the Art of Persuasion, Influence, and Success
by Jordan Belfort 2018. 09. 25
Jordan Belfort "immortalized by Leonardo DiCaprio in the hit movie The Wolf of Wall Street' reveals the step-by-step sales and persuasion system proven to turn anyone into a sales-closing, money-earning rock star.
For the first time ever, Jordan Belfort opens his playbook and gives you access to his exclusive step-by-step system?the same system he used to create massive wealth for himself, his clients, and his sales teams. Until now this revolutionary program was only available through Jordan's $1,997 online training. Now, in Way of the Wolf, Belfort is ready to unleash the power of persuasion to a whole new generation, revealing how anyone can bounce back from devastating setbacks, master the art of persuasion, and build wealth. Every technique, every strategy, and every tip has been tested and proven to work in real-life situations.
Written in his own inimitable voice, Way of the Wolf cracks the code on how to persuade anyone to do anything, and coaches readers?regardless of age, education, or skill level?to be a master sales person, negotiator, closer, entrepreneur, or speaker.
The Book on Negotiating Real Estate: Expert Strategies for Getting the Best Deals When Buying & Selling Investment Property
by Mark Ferguson 2019. 03. 28
Perfect for fans of Never Split the Difference and all types of real estate investors. Learn how to close more real estate deals. . . and make more money in the process
From expert real estate investors and best-selling authors J Scott, Mark Ferguson, and Carol Scott, this is the only book you'll need to ensure you'll get the most deals–and the best deals–on all of your investment property With over 1,000 successful real estate deals between them, the authors combine the science of negotiation with real world experience to dive into all aspects of the real estate negotiation process–from the first interaction with a buyer or seller, to renegotiating the contract after unexpected issues arise, to last-minute concessions at closing.
Not only does this book cover all aspects of negotiating real estate deals, but it also contains dozens of true-life stories that highlight how strong negotiation can result in more and better deals. Real dialogue examples will teach you what to say and how to say it, which will strengthen your ability to close profitable transactions. Whether you're a real estate investor, agent, beginner, or expert, you can use these expert strategies to create optimal agreements and dynamic end results.
The Power of Noticing: What the Best Leaders See
by Max H. Bazerman 2015. 08. 25
A "must-read" (Booklist) from Harvard Business School Professor and Co Director of the Harvard Kennedy School's Center for Public Leadership: A guide to making better decisions, noticing important information in the world around you, and improving leadership skills.Imagine your advantage in negotiations, decision-making, and leadership if you could teach yourself to see and evaluate information that others overlook.The Power of Noticing provides the blueprint for accomplishing precisely that. Max Bazerman, an expert in the field of applied behavioral psychology, draws on three decades of research and his experience instructing Harvard Business School MBAs and corporate executives to teach you how to notice and act on information that may not be immediately obvious.Drawing on a wealth of real-world examples and using many of the same case studies and thought experiments designed in his executive MBA classes, Bazerman challenges you to explore your cognitive blind spots, identify any salient details you are programmed to miss, and then take steps to ensure it won't happen again. His book provides a step-by-step guide to breaking bad habits and spotting the hidden details that will change your decision-making and leadership skills for the better, teaching you to pay attention to what didn't happen, acknowledge self-interest, invent the third choice, and realize that what you see is not all there is.While many bestselling business books have explained how susceptible to manipulation our irrational cognitive blind spots make us, Bazerman helps you avoid the habits that lead to poor decisions and ineffective leadership in the first place. With The Power of Noticing at your side, you can learn how to notice what others miss, make wiser decisions, and lead more successfully.
Negotiating Rationally
by Max H. Bazerman 1994. 01. 01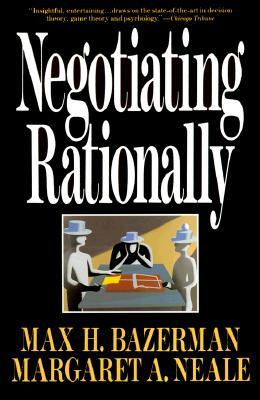 In Negotiating Rationally, Max Bazerman and Margaret Neale explain how to avoid the pitfalls of irrationality and gain the upper hand in negotiations.For example, managers tend to be overconfident, to recklessly escalate previous commitments, and fail to consider the tactics of the other party. Drawing on their research, the authors show how we are prisoners of our own assumptions. They identify strategies to avoid these pitfalls in negotiating by concentrating on opponents' behavior and developing the ability to recognize individual limitations and biases. They explain how to think rationally about the choice of reaching an agreement versus reaching an impasse. A must read for business professionals.
The Global Negotiator: Making, Managing and Mending Deals Around the World in the Twenty-First Century
by Jeswald W. Salacuse 2003. 07. 01
The Global Negotiator provides managers, lawyers, executives, and government officials with a comprehensive guide to handling all kinds of negotiations from start to finish in the new era of global business. Jeswald Salacuse explains how to develop strategies for closing profitable deals from Bogota to Beijing, how to maintain them to your advantage once the contract is signed, and how to save them when they are threatened by conflict with foreign partners or hostile action by governments. Salacuse illustrates each of his principles and techniques with numerous real-life examples from every area of business. Being a global negotiator means not only that you are able to negotiate deals around the world, but also that you have the skills to handle the entire transaction from start to finish. The Global Negotiator guides you throughout the whole life of the deal, from the first handshake with a potential foreign partner to the final liquidation of a joint venture you no longer need.
Ask for It: How Women Can Use Negotiation to Get What They Really Want
by Linda Babcock, Sara Laschever 2008. 02. 26
In their groundbreaking book, Women Don't Ask, Linda Babcock and Sara Laschever uncovered a startling fact: even women who negotiate brilliantly on behalf of others often falter when it comes to asking for themselves. Now they've developed the action plan that women all over the country requested—a guide to negotiation that starts before you get to the bargaining table.
Ask for It explains why it's essential to ask(men do it all the time) and teaches you how to ask effectively, in ways that feel comfortable to you as a woman. Whether you currently avoid negotiating like the plague or consider yourself hard-charging and fearless, Babcock and Laschever's compelling stories of real women will help you recognize how much more you deserve—whether it's a raise, that overdue promotion, an exciting new assignment, or even extra help around the house. Their four-phase program, backed by years of research, will show you how to identify what you're really worth, maximize your bargaining power, develop the best strategy for your situation, and manage the reactions and emotions that may arise—on both sides. Guided step-by-step, you'll learn how to draw on the special strengths you bring to the negotiating table to reach agreements that benefit everyone involved.
This collaborative, problem-solving approach will propel you to new places both professionally and personally—and open doors you thought were closed. Because if you never hear no, you're not asking enough.
ASK FOR MORE
by Alexandra Carter 2020. 05. 05
Negotiation is not a zero-sum game. It&;s an essential skill for your career that can also improve your closest relationships and your everyday life, but often people shy away from it, feeling defeated before they've even started. In this groundbreaking new book on negotiation, Ask for More, Alexandra Carter' Columbia law professor and mediation expert who has helped students, business professionals, the United Nations, and more offers a straightforward, accessible approach anyone can use to ask for and get more.
We&;ve been taught incorrectly that the loudest and most assertive voice prevails in any negotiation, or otherwise both sides compromise, ending up with less. Instead Carter shows that you get far more value by asking the right questions of the person you' re negotiating with than you do from arguing with them. She offers a simple yet powerful ten-question framework for successful negotiation where both sides emerge victorious. Carter's proven method extends far beyond one's yes and instead creates value that lasts a lifetime.
Ask for More gives you the tools to bring clarity and perspective to any important discussion, no matter the topic.
A Columbia law professor and mediation expert provides a straightforward approach to negotiating through the use of a powerful framework of ten questions that proves how asking the right questions adds more value than arguing. 100,000 first printing.
"From the Director of the Mediation Clinic at Columbia Law School, Ask for More shows that by asking better questions, you get better answers-and better results from any negotiation"
The Bartering Mindset: A Mostly Forgotten Framework for Mastering Your Next Negotiation
by Brian Cunia 2019. 02. 08
Our reliance on a monetary mindset generally leads us to negotiate badly. This book will train you to negotiate more effectively, providing you with the strategies needed to apply the bartering mindset to your own monetary negotiations.
Body Language Secrets to Win More Negotiations: How to Read Any Opponent and Get What You Want
by Greg Williams 2016. 09. 19
The success of a negotiation is profoundly affected by how well you read body language. How can you learn to read the subtle clues–many lasting a fraction of a second–that your opponent projects? Body Language Secrets to Win More Negotiations will help you discover what the "other side" is revealing through body language and microexpressions, and how to control your own. It will help you become more adept at leveraging your knowledge of emotional intelligence, negotiation ploys, and emotional hot buttons.Through engaging stories and examples, Body Language Secrets to Win More Negotiations shows you how to employ a wide range of strategies to achieve your negotiating goals. You will learn:
How to employ your knowledge of body language to instantly read the other negotiator's position.
Insider secrets that will give you an advantage in any negotiation.
Techniques to overcome common obstacles that hamper your negotiations.
Learning to read and send body language signals enables anyone, anywhere, to gain an advantage in any negotiation, from where to go for brunch to what price to pay for a global corporate acquisition.
Thank You for Arguing: What Aristotle, Lincoln, and Homer Simpson Can Teach Us about the Art of Persuasion
by Jay Heinrichs 2007. 02. 27
Thank You for Arguing is your master class in the art of persuasion, taught by professors ranging from Bart Simpson to Winston Churchill. The time-tested secrets the book discloses include Cicero's three-step strategy for moving an audience to action as well as Honest Abe's Shameless Trick of lowering an audience's expectations by pretending to be unpolished. But it's also replete with contemporary techniques such as politicians use of code language to appeal to specific groups and an eye-opening assortment of popular-culture dodges, including:
The Eddie Haskell Ploy
Eminem's Rules of Decorum
The Belushi Paradigm
Stalin's Timing Secret
The Yoda Technique
Whether you're an inveterate lover of language books or just want to win a lot more anger-free arguments on the page, at the podium, or over a beer, Thank You for Arguing is for you. Written by one of today's most popular online language mavens, it's warm, witty, erudite, and truly enlightening. It not only teaches you how to recognize a paralipsis and a chiasmus when you hear them, but also how to wield such handy and persuasive weapons the next time you really, really want to get your own way.
An introduction to the fine art of rhetoric explains how this important skill can profoundly influence one's success in one personal and professional life, using contemporary examples to illuminate classical rhetorical strategies and revealing how the forces of persuasion are at work all around us and how they can be used for one's own benefit. Original. 40,000 first printing.
Protocol: The Power of Diplomacy and How to Make It Work for You
by Capricia Penavic Marshall 2020. 06. 23
President Obama's former United States chief of protocol looks at why diplomacy and etiquette matters from the international stage to everyday life.

History often appears to consist of big gestures and dramatic shifts. But for every peace treaty signed, someone set the stage, using hidden influence to effect the outcome. In her roles as chief of protocol for President Barack Obama and social secretary to President Bill Clinton and First Lady Hillary Clinton, Capricia Penavic Marshall not only bore witness to history, she facilitated it. From arranging a room to have an intended impact on the participants to knowing which cultural gestures earned trust, her behind-the scenes preparations laid the groundwork for successful diplomacy between heads of state around the world and tilted the playing field in her team's favor.
If there's one thing that working at the highest levels of government for over two decades has taught Marshall, it's that there is power in detail and nuances the micro-moves that affect the macro-shifts. When seemingly minor aspects of an engagement go missing or away a botched greeting or even a poorly chosen menus it alters the emotions and tenor of an exchange, setting up obstacles rather than paving a way forward. In some cases, an oversight may put the entire endeavor in jeopardy.
Sharing unvarnished anecdotes from her time in offices harrowing near misses, exhilarating triumphs, heartwarming personal stories Marshall brings us a master class in soft power, unveiling the complexity of human interactions and making the case that etiquette, cultural IQ, and a flexible mind-set matter now more than ever. When the notion of basic civility seems to be endangered, Protocol reminds us how critical these principles are while providing an accessible guide for anyone who wants to be empowered by the tools of diplomacy in work and everyday life.
The Only Negotiating Guide You'll Ever Need: 101 Ways to Win Every Time in Any Situation
by Peter B. Stark, Jane Flaherty 2003. 09. 09
Identifies a set of simple principles for negotiating in any situation, sharing one-page lessons designed to take the dread out of persuasion and to minimize the risks to important relationships, offering profiles of three main types of negotiators, and sharing additional information about nonverbal communication.
The Essential Guide to the Power of Persuasion
In The Only Negotiating Guide You'll Ever Need, Peter Stark and Jane Flaherty, celebrated consultants to some of the country's top companies, take the dread out of persuasion. Their 101 Winning Tactics make powerful negotiating skills easy and accessible, giving you tools and knowledge you can put to use right away. Each tactic is on a single page, with a clever and memorable name, a true-to-life example of how to use it, and suggested counter tactics in case someone tries it on you. All 101 tactics are so accessible and empowering that you will find yourself using them immediately–and maybe not just at work.
Gain the Edge!: Negotiating to Get What You Want
by Martin Katz 2004. 09. 10
There's always more to learn about negotiation. That one new strategy or tactic you gain from this book may make the difference between your walking away a winner and leaving empty-handed. The margin of difference can be infinitesimal, yet the ramifications are often huge.
Negotiating a new salary? Buying a car or a house? Closing a deal with a big client? Discussing where to vacation with your spouse? We negotiate every day. Yet most of us negotiate instinctively and don't give the process the strategic attention it deserves. We suffer as a result.
Now negotiation expert Martin E. Latz reveals an easy-to-use strategic template you can use in every negotiation. This is not ivory-tower advice, or advice just based on instincts and experience: The tactics and techniques here come from the most up-to-date research and the knowledge Latz has developed in negotiating on the White House Advance Teams, from consulting with top executives at Fortune 500 companies and law firms nationwide, and from teaching thousands of business professionals and lawyers how to negotiate more effectively.
The result is a comprehensive guide that takes you all the way from general strategies and principles–Latz's Five Golden Rules of Negotiation–to specific tips, techniques, and even phrases you can use at the table.
Gain the Edge! will arm you with:
* Practical strategies to get the information you need before you sit down at the table
* Tactics to maximize your leverage when seemingly powerless
* Secrets to success in emotionally charged negotiations
* A step-by-step system to design the most effective offer-concession strategy
* Ways to deal with different personality types, ethics, and negotiation "games"
* Specific advice on how to negotiate for your next salary, car, or house
* Negotiating tips for other business and personal matters
Real Leaders Negotiate!: Gaining, Using, and Keeping the Power to Lead Through Negotiation
by Jeswald W. Salacuse 2017. 07. 11
This book examines the central role of negotiation in gaining, exercising, and retaining leadership within organizations, large and small, public and private. Its aim is to instruct readers on the way to use negotiation to lead effectively.
For far too long conventional wisdom has proposed that strong leaders refuse to negotiate, viewing negotiation as a sign of weakness. Leading people requires charisma, vision, and a commanding presence, not the tricks for making deals. For many executives, negotiation is a tool to use outside the organization to deal with customers, suppliers, and creditors. Inside the organization, it's strictly "my way or the highway."
Salacuse explains that leaders can increase their effectiveness by using negotiation in each of the three phases of the leadership lifecycle: 1) leadership attainment, 2) leadership action; and 3) leadership preservation and loss. Drawing on experience in wide variety of settings, including the author's ownleadership positions, the book will examine high profile leadership cases such as the rise and fall of Carly Fiorina at Hewlett-Packard, the skillful negotiations by Warren Buffet to save Salomon Brothers from extinction, and the successful efforts by the partners at Goldman Sachs to negotiate a new vision and direction for that financial giant.
Leaders and managers should pick up this book to learn how effective negotiation is essential to both gaining and exercising leadership and to overcoming threats to a leader's position.